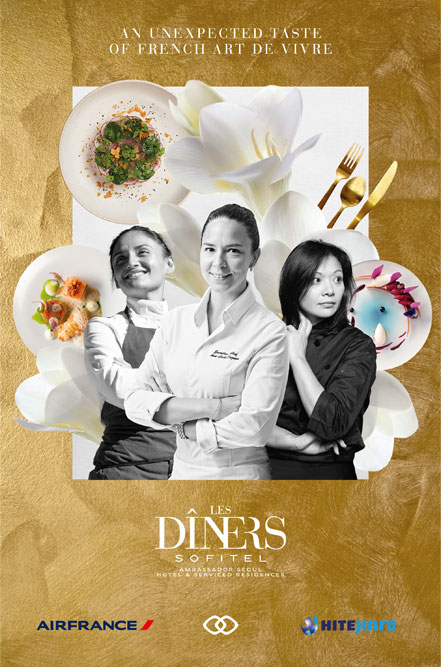 Les Dîners Sofitel is a seasonal French gastronomy event hosted at Sofitel Hotels around the world.
In honor of our anniversary, three female Parisian chefs have been invited to Seoul specifically to collaborate in creating a unique fine dining experience.
We invite you to indulge in the magnifique mix of "The Art of French Gastronomy" using only the finest Korean ingredients in order to present Sofitel Ambassador's Cultural Link between French and Korean cuisine.
<GALA LUNCH>
3-course menu with welcome cocktail
•Date: September 28-30
•Location: Fait Maison (4F)
•Price: KRW 80,000
•Inquiry: 02 2092 6100
<GALA DINNER>
5-course menu with Premium French wine pairings
•Date: September 28-29
•Location: Fait Maison (4F)
•Price: KRW 220,000
•Inquiry: 02 2092 6100
<SPECIAL GALA DINNER AT GARDEN>
6-course menu with Luxury French wine pairings
•Date: September 30
•Location: Jadin d'Hiver Garden (6F)
•Price: KRW 300,000
•Inquiry: 02 2092 6104